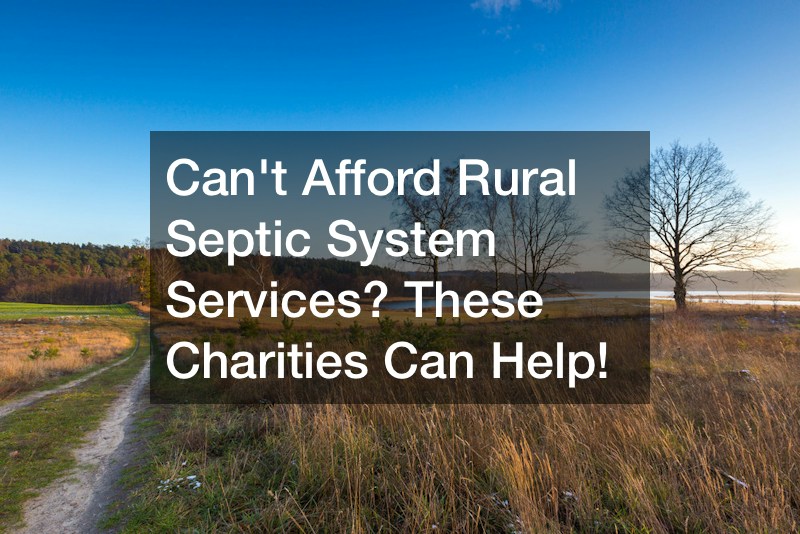 Cant Afford Rural Septic System Services? These Charities Can Help!
Unlike cities, many rural areas lack a well-developed sewer system. This leaves homeowners with the option of installing a septic tank to treat wastewater. However, septic systems installation services can be expensive, averaging $6,300, according to Forbes.
Don't panic, though. This article highlights charities that will help you with rural septic system services. Keep reading for insightful information. But first things first!
The Maintenance Septic Systems Need
Before jumping into the charities that will help you with rural septic system services, you must understand the proper maintenance procedures. There is no better starting point than involving a professional to guide you through the necessary maintenance tips. You may also seek advice from your neighbors who have installed septic tanks. According to the 2021 Report Card for America's Infrastructure, 20% of Americans rely on a septic tank. So, chances are a neighbor owns the system.
Another vital maintenance tip is septic pumping. The U.S. Environmental Protection Agency recommends pumping tanks once every three to five years. However, the frequency depends on the number of people living in your home, the size of your tank, and the kind of waste put into the system.
Keep an eye out for any system leaks. Walk regularly around the tank and keenly assess areas around your yard that are more lush or dense than others. A quick giveaway tip is that a leaking tank provides the nutrition to support a healthy plant life. Also, leaks give off pungent sewage smells, so if you notice a sewage odor, your tank is likely leaking. Other maintenance tips include maintaining the leach field, using a bacteria additive, installing an effluent filter, and limiting household water usage.
Your State's Septic System Replacement Fund
Top in our list of charities that support septic services is your State's Septic System Replacement Fund. It will help you replace septic systems and cesspools. However, you must be eligible to benefit from their financial assistance. Mostly, they'll help you cover a portion of the cost of replacing or repairing your septic system. Their aid comes as a grant, subsidy, or low-interest loan.
Not everyone is eligible to receive this aid. For this reason, check your eligibility criteria within your state to ensure you're the right fit to receive the financial assistance. Mostly, your eligibility requirement depends on your income level, the conditions of your septic tank, and property ownership. They check whether your property is close to a water body and whether the septic tanks affected groundwater.
After you ascertain eligibility, submit your application to demonstrate interest in accessing the fund. Attach essential documents in the application, such as the septic system inspection report, income verification, and property ownership record.
The fund doesn't only focus on financial assistance. You'll also benefit from outreach programs that teach proper septic tank maintenance. They'll also enlighten you on the benefits of regular inspections and upgrading to an environmentally friendly system.
Wastewater Eco-Charities
Rural septic system services, such as septic tank cleaning, replacement, and maintenance, are essential to increase the work life of your system. While they can be expensive, the good news is that some wastewater Eco-Charities are willing to come to your aid. Let's explore a few.
Did you know you can benefit from the Rural Community Assistance Partnership (RCAP)? The national network of non-profit organizations will give you funding and technical assistance to support water and wastewater improvement infrastructure projects. The organization mostly works with you to ensure you have access to clean water and a proper wastewater treatment system. Therefore, if you don't have funds for septic system services, consider reaching out to RCAP.
You may also consider approaching your State or Local Environmental Agency for help. Such agencies often have initiatives or programs focusing on improving most rural areas' wastewater infrastructure. You may benefit from their grant program or other funding opportunities to help you afford rural septic system services.
The Urban Development (HUD) and the US Department of Housing often offer Community Development Block Grants (CDBG) to local governments. The main purpose of the grants is to support infrastructure projects, which may include septic tank services. So, if you're not financially able to finance your rural septic system services, visit your housing authority or local government and inquire if they can support your project.
Habitat for Humanity
An nongovernmental organization, Habitat for Humanity primarily helps low-income families and individuals access affordable housing. Even so, they have programs providing the necessary resources and assistance to rural septic system services. For example, in 2017, Habitat for Humanity partnered with Infiltrator to donate over 75 septic systems in the United States.
The organization works with the local communities and government agencies to highlight and develop solutions affiliated with housing projects. Also, in the spirit of developing communities, Habitat for Humanity hires community contractors, such as local plumbers, artisans, and fabricators, to stimulate the local economy.
Working closely with affiliates who collaborate with the local communities and other stakeholders, the NGO aims to address various housing needs. They engage the local health departments to ensure proper wastewater management during the construction or home renovations. Therefore, if you need rural septic assistance from the organization, don't hesitate to contact your local affiliate directly for advice and guidance on the available resources to cater to your problem.
Local Plumbing Companies
It isn't uncommon to find clogged or slow-draining septic pipes that need drain cleaning. The best solution is to contact a plumbing company immediately to fix the problem. The aim is to prevent septic system damage and address the underlying cause of the problem of your pipes draining slowly.
Probably, you're wondering what to do without enough funds to finance your project – don't fret. Local plumbing companies have devised ingenious ways to help you afford plumbing services. However, you must be eligible to benefit from such services.
For starters, many local plumbing companies offer community assistance for rural septic services. Mainly, they'll provide financial aid for low-income families or significantly reduce rates for the most needy households. So, if you need services, research your local plumbing companies and see if they have free septic service programs.
Also, some plumbers provide exceptionally affordable plumbing services for low-income families. If eligible, you could get high discounts or a flexible payment plan option to help you spread out the cost. Others may partner with charity organizations, allowing them to give your rural septic financial assistance services.
The Chesapeake Bay Foundation
Imagine wastewater failing to flash away through the toilet, sink, or drain! It's an ugly sight, right? The drain backing up emergency needs immediate plumbing attention. However, you're in luck if you live in the Bay Area.
The Chesapeake Bay Foundation offers grants and funding for septic services through various initiatives. The CBF Foundation aims to improve your Chesapeake Bay area water quality. So, they may provide financial assistance to repair or upgrade your septic system.
One of the beneficial CBF programs is the Bay Restoration Fund (BRF) grant program. This program functions to provide you with septic system financial repair services assistance, hypothetically hitting two birds with one stone. Firstly, their grant program offers free or affordable septic upgrades or repairs. Secondly, they significantly reduce nutrient water pollution in the Chesapeake Bay watershed.
So, how can the foundation help you? First, they invest in targeted advanced denitrifying technology, which might be optimal in your location. They also track and enforce septic tank inspection, fund upgrades, and invest in continuous connection of septic tank systems in various homes. Visit their website or contact them directly to determine whether you qualify for septic services funding.
The Rebuild Paradise Foundation
The Rebuild Paradise Foundation was born after the devastating campfire in Paradise, California, in 2018. Primarily, the foundation design was to rebuild and recover their town from the ashes. Their programs include community development, economic revitalization, and housing.
Even so, the foundation has a septic infrastructure grant funded by the American Red Cross. In this arrangement, you can get up to $7,500 in funding for your rural septic system expenses if you're from a low-income household. A middle-class family can qualify for up to $3,500 in aid.
However, the qualifying criteria include one grant per residence, the rebuild must be for a rental residence or single family, and only a single-family rental family can qualify. Also, the rebuilding must be within the campfire footprint. Remember, the paid building permit fee receipt's date must be on or before the 1st of August 2020. Otherwise, you become ineligible.
But there is another requirement. You can't apply for separate grants if your household isn't filing jointly. So, if you need sanitary sewer clean out septic services, the Rebuild Paradise is ready to make your home a haven.
USDA Single Family Home Repair Loans and Grants
Do you lack funds for your rural septic services? The Rural Development, US Department of Agriculture, has a water and disposal loan and grant program worthy of your consideration. The program is also commonly called the Section 504 Home Repair program.
It works to provide loans to low-income households to help with septic services like drain inspection, repair, modernizing, or improving their homes. Also, they offer loans to older people with meager incomes, eliminating health and safety hazards.
To qualify for funding, you must be a homeowner living in your house. Additionally, you must show that you can't get affordable credit from other institutions and have a household income that never exceeds the lowest limit by country. To be eligible for a grant, you must be over 62. The loans tend to have a fixed interest rate, and you can repay them over 20 years, whereas you don't have to repay the grant.
If you aren't sure whether you're eligible for septic services funding, it will be best to visit the USDA website for eligibility information. Also, you may opt to visit your local USDA Rural Development office for one-on-one consultations.
Neighborhood Impact Program (NIP)
The Neighborhood Impact Program (NIP) offers loan programs with reasonable interest rates. The programs include the Down Payment Assistance Program (DPA), Home Preservation and Well Loan Program, and South Deschutes County Septic Program.
The Down Payment Assistance Program is designed to provide down payment assistance for low to moderate-income people buying a home for the first time. If you need septic replacement services or sewer line connections, consider opting for the Home Preservation and Well Loan Program. The facility will also help purchase lawn equipment for home maintenance and upkeep.
To qualify for financing, you must own the land where your home sits, live in your home, be a low or moderate-income family, and live in Jefferson, Crook, or Deschutes. Also, you must be up-to-date with property taxes and subject to a waitlist.
South Deschutes County Septic Program works to help replace onsite or failing septic systems in South Deschutes County. To qualify for the facility, you must own and live in your Deschutes County primary residence, have 80% of the maximum household income of the median county income, prove you can't afford the septic upgrade, and be considered for loan approval subject to other necessary eligibility criteria.
Home Repairs & Neighborhood Revitalization
Can't afford to fund your rural septic system, home improvements like lawn maintenance, and neighborhood revitalization services? Worry not; consider checking on government programs that will give you loans to help fund your projects.
HUD home improvement loan programs will help you with home modifications and repairs. Most programs are nationwide, and a select few are available at the county or state level. You must contact your HUD loan programs office to confirm your eligibility and the best facility to fund septic services.
Lack of money to afford your rural septic system services isn't a sentence that condemns you to live with defective septic systems. Plenty of financing options are available. While Some come as grants and others are loans and discounts, they all aim to ensure you live in a healthy and clean property. Your septic problems end here. However, you must research to ensure you're eligible for financing. To learn more about funding septic services, please visit our website for insightful information.